HOME OF THE OUTLAW BLOODLINE
  KEEPING THE LEGEND ALIVE!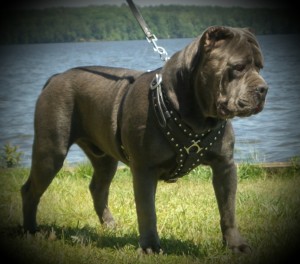 Breeder and pround owner of Outlaw's Perfect Storm "Roman" ICCF & A.K.C. Pictured at only 14 mo. old and already an X-Large 120 lbs. Roman is a very deep colored Solid Steel Blue Male with a Huge Head and Chest combined with great lines! Roman's OUTSTANDING TEMPERAMENT  make this dog what a Cane Corso is supposed to be!
OVER 17 YEARS BREEDING EXPERIENCE
Champion Bloodlines , A.K.C. & ICCF Registered litters , All puppies sold are

FULLY HEALTH TESTED

 by a licensed veterinarian and come with complete shot records and certificate of health. 
***SUPERIOR QUALITY CANE CORSOS AT A WORKING MAN'S PRICE***
OUR WORKING AND SHOW QUALITY PUPPIES COME WITH FULL BREEDING RIGHTS(no limited registration) AND NO FORCED CO-OWNERSHIPS.
Financing available through Pay Pal see link at bottom of page.
Welcome to OUTLAW KENNEL.  We are a small kennel located in the Shreveport / Bossier City area of Louisiana (close to  Texas and Arkansas state lines)  that breed the highest quality TRADITIONAL OLD SCHOOL Cane Corsos .  We breed for COURAGE, CONSTRUCTION,  then CONFORMATION.  This is the way it has been done in Italy for centuries and its the way we feel all guardian dog breeds should be bred.   If your looking for the ultimate natural guard dogs that are loyal family members (especially good with children) with a ton of intimidating looks then we may have the puppy for you .  Please enjoy your stay with us !
Congratulations to  OUTLAW'S I'M NO JOKE and Jenice Brown (owner/handler) for their wins at the 2015  A.K.C. Texarkana dog show. They overwhelmed the competition placing 1st in the Cane Corso group, Best of Breed and, 3rd  place in the working group !!! All of this done as a puppy !  Although we do not breed specifically for show dogs its nice that our dogs are considered among some of the best looking dogs in the country. OUTLAW'S I'M NO JOKE is off of Outlaw's kennel DIESEL and BELLA he is a littermate brother to OUTLAW'S PERFECT STORM.
The United States is one of the few countries still standing whose citizens have the right to bear arms.  However each day the people of the United States are threatened by gun control advocacy.  With the possibility of new gun control laws being enacted we need to have other methods for home and self defense to help keep our  family safe .  Luckily no state has laws banning a dog from protection of self or property .  The Traditional Cane Corso has proudly fulfilled  this role in other parts of the world for centuries .
***   WARNING   ***
 Not all modern Cane Corsos will protect your home and family. (see video)   It's not the lack of training in the video, but more the lack of breeding.   A Cane Corso should defend his home naturally.  Choose your breeder carefully for the best chances of getting your ideal dog.  Please read the entire FAQ section for a better understanding as to why this is so.  Remember,  a properly  bred Cane Corso is the ultimate natural guard dog and loyal family member.  (For a better example of a properly bred Cane corso see video)   No breeder can guarantee 100% turn outs on a litter of puppies,  but we can show you how we can produce a  litter of puppies with the highest percentage of  turn outs.  Outlaw Cane Corsos are bred to be life long loving family members that have the true ability to defend your home and family in time of need.
The oldest Cane Corso registry in the world and the most complete stud book in the United States .